About me
Summary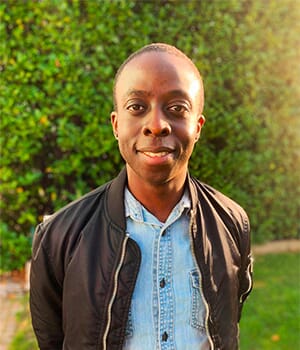 I am Jerome Kalumbu. I am a website designer based in Milan. I am currently working remotely for Tarsus Group (UK).
My mission is to help businesses improve their conversion rate, usability and engagement online. My main work is to design effective websites that drive business goals and delight customers
Aside, I write content about UX Design to help junior designers improve their skills and design better web interfaces.
My professional skills include UX & UI Design, Art & Creative Direction, Prototyping (Coding responsive websites in static HTML and advanced styling with modern CSS techniques).
"I found myself in front of a prepared, reliable, serious, precise UI/UX designer, capable of interpreting our needs and putting them into practice."
My experience
I started my carrier as a Web Designer working for:
Trace (Paris, France-2011);
Atout France (Paris, France- 2012);
3 Suisses (Lille, France- 2013).
Since 2014, I work in the Web Team as a Web Designer for Tarsus Group, an International Event and Exhibition company (UK).
"Jerome is very professional and creative. He has good artistic skill. He has a sound understanding of Drupal and UI/UX experience."
Since 2011, I've also rendered consulting services to private companies like Roc de France, Onrec, Les As Frenchies and FarmaciaVirtuale.
I also write articles to share my experience and knowledge in designing digital interfaces.
Conferences and workshops
To keep my skills up-to-date, I regularly attend conferences and workshops on digital design. I have so far attended the following courses:
Digital Design Days Milan (2018 & 2019)
Interaction Design & Prototyping (Training course at Wecredible - 2018)
Web Page UX Design (Nielsen Norman Group - 2018)
Smashing Conf Freiburg (2019)
Variable Fonts Workshop (2020)
Level-Up With Modern CSS (2021)
Designing Landing Pages That Sell (2021)
Designing The Perfect Navigation (2021)
Education
I hold a
Masters Degree in Communication and Graphic Design (2014);
Bachelor of Science Degree in Webdesign (2011);
Diploma in Technology in Computer Science & Communication (2010).
My hobbies
In my spare time, I enjoy cooking, travelling, playing football and above all, spending time with my family.
I have a passion to read books or articles about graphic design and the web. This helps me to constantly improve my skills and to write articles to help and inspire people with interest in designing web interfaces.
Languages
I speak French (my mother language), English, Spanish, Italian and Swahili.